Although many photographers seek out the golden hours of the day, that first hour after sunrise, and the last hour before sunset for the appeal that the low light brings (good contrast, golden glow, deeper blue skies), with the advent of newer digital camera's producing low noise at higher iso along with software that helps with processing of digital captures, train photography doesn't have to end the moment the sun drops below the horizon.
For instance, both of the shots below were taken after sunset, but prior to darkness utilizing existing light, primarily to capture somewhat unusual power on the Joint Line here in Colorado.  The shots used similar but different approaches.
The first image, taken nearly 30 minutes after sunset, of GECX 2042 leading a train on Colorado's joint line, utilized several techniques to capture a usable image, hardware (camera), multiple exposure, and software.
The hardware, or camera, is a newer model camera, a Nikon D700 (though no means brand new, the D700 represents technology about 5 years old) which has a full frame sensor known for producing low noise captures at higher iso.  Low noise is the key to photography in minimal light.  Camera's that do not have good low noise performance at high iso will first experience noise in the darker areas of the image.  As with many instances, the lowest iso that can be used, in this case iso 1600, that can still freeze the motion, is probably the iso to use.  Higher iso than is needed will result in more noise, even in the best of low noise camera's as iso's become higher and higher.
3 exposures were shot of the train, taken in quick succession with the motor drive setting at high, with 3 shots taken.  1 shot was taken as my mid point exposure, plus 1 stop over and 1 stop under.  This was done with an eye towards utilizing an HDR approach to the shot, though is not a bad idea even if an HDR treatment is not intended.  Typically the sky will look better 1/2 to 1 stop under the exposure utilized for the locomotives, while the grasses in the foreground tend to look better 1/2 to 1 stop over exposed at this time of day.
With digital captures on the card, software finishes the job.  In my case, I utilize Lightroom for the initial file imports with a generic process applied to each image.  Once imported, the 3 shots were then opened for further processing with Photomatix, an HDR program.  In Photomatix, the images were combined using a less aggressive filter to minimize the HDR look.  Once reimported into Lightroom, Topaz clarity was then utilized to help finish the image, before some final image edits were made in lightroom, including very mild noise reduction.
The result is the image below.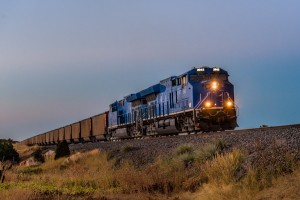 The second image was shot 10-12 minutes after sunset, with a bit more light.  In this case an iso of 800 resulted in a 1/500th shot for the middle exposure, and again 3 shots were made with a 2nd shot 1 stop under exposed, and 1 stop over exposed.  Again, the Nikon D700 was utilized (being my normally used camera).
The same technique of using Photomatix to blend the 3 shots was used, though no final edits in Topaz clarity were used.
Again, a pleasant image resulted of the train, despite occurring after sunset (and of course without directly light).
In both of these examples, the sun was camera left 60 degrees or so, resulting in skies that were less bright and more saturated.
With camera technology continuing to improve, less noise with high iso's is becoming mroe common, making it easier to shoot after the sun goes down.